Culinary team building is cooler than any barbecue. Do you want to eat delicious food in nature, and what your team has prepared, and even in a game format?
As an alternative to the "Hell's Kitchen" corporate party and traditional picnics, we offer a culinary competitive team building or educational master class.
Culinary team building
Culinary team building is a relatively new, but very effective, fun and most importantly, delicious option for summer activities.
All necessary ingredients and supplies will be provided to the teams.

Duration: 2-4 hours.
Program:
Stage 1:
Participants of the event are divided into teams. Each team chooses a captain. A draw is held, after which each team receives their dishes for cooking.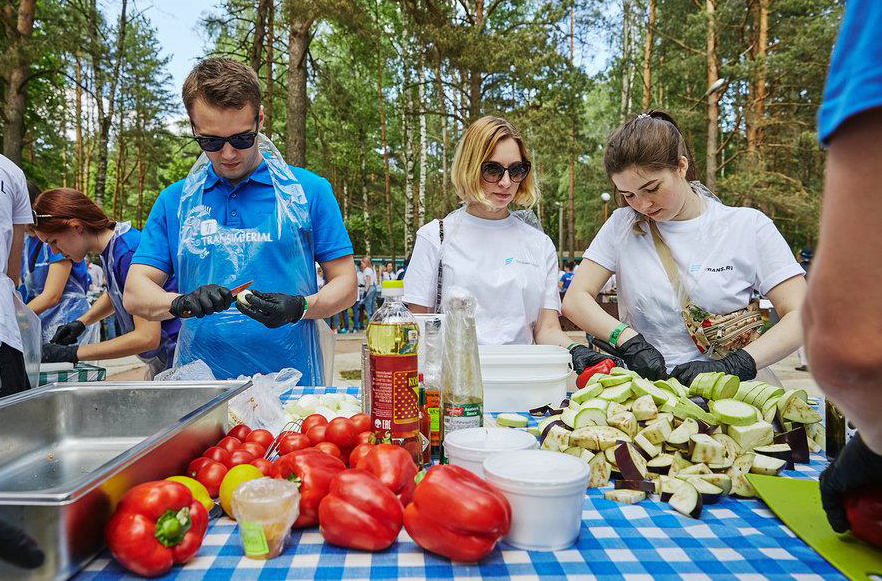 Stage 2:
Participants prepare their dishes according to the recipe. Professional chefs work on the site, who provide instructions and help with advice.
Stage 3:
Presentation of prepared dishes and selection of the winner.
Stage 4:
Participants of the event have dinner with the dishes that they have prepared themselves.
Examples of dishes you will cook
Chicken leg on the bone baked with herbs and berry sauce
Pork neck on wooden skewers with vegetables, herbs and unfiltered beer
Mackerel stuffed with grilled vegetables and fresh rosemary
Seabass with vegetables and fruits in reduced balsamic with fresh thyme
Mix of Thuringian spirals with tomato-garlic sauce
Chakhokhbili from chicken thighs with tomato sauce and herbs (Kazan)
Pilaf with pork, cumin, chickpeas, saffron petals and barberry (Kazan)
Cooking class
A culinary master class is an opportunity to actively, interestingly and tastefully spend time with colleagues.
The master class is conducted by the chef.
All necessary ingredients and supplies are provided by the organizer.

Duration: 2-3 hours.
Program:
A professional chef will teach participants how to cook various dishes in a cauldron and how to work with it in everyday life.

It will be possible to choose between signature Azerbaijani plov or Georgian ojakhuri.

The master class will be accompanied not only by the implementation of the cooking steps, but also by an interesting theory - information about the ingredients, interesting flavor combinations, and their use in other dishes.